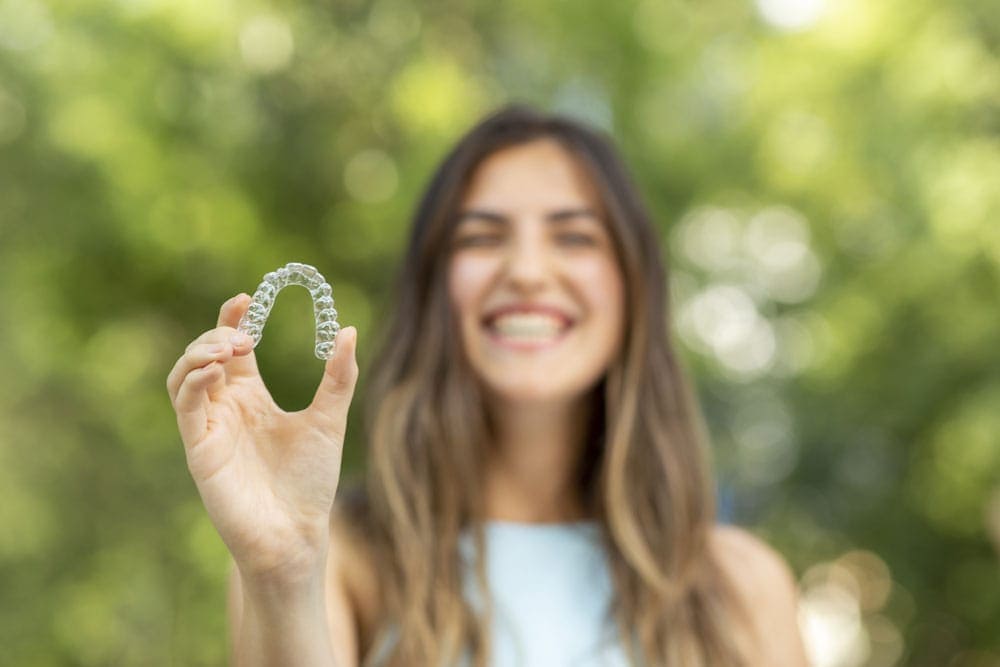 Until Invisalign emerged, braces were the only option when misaligned teeth needed to be addressed. Today, teens do not have to use the traditional metal braces to straighten their teeth; instead, they can use Invisalign Teen. This teeth-straightening system is designed to discreetly correct misaligned teeth. The Invisalign Teen aligners are unique in that these clear aligners have compliance dots inside them. These dots are not visible while the teen wears the aligners. These dots are used as a tool to ensure the teen is wearing their aligners for an acceptable amount of time. When the aligners are not worn as prescribed, a patient's treatment time increases.
As the teen wears his or her aligners, these blue dots fade, which provides the Invisalign doctor insight into whether the patient is complying with the treatment plan.
How often do I have to wear my aligners?
To stay on track with your treatment and reduce the likelihood of complications, you should keep your aligners in your mouth for at least 20 hours, but preferably 22 hours a day. This schedule provides plenty of time for you to care for your teeth and aligners, eat, drink, and participate in any extracurricular activities that require you to remove your aligners (e.g., band, etc.).
Since Invisalign aligners are not an acceptable replacement for mouthguards, your aligners must also be removed while participating in sports (e.g., football, basketball, etc.).
The aligners used during treatment with Invisalign Teen are thin, nearly invisible, and easy to care for, making them the perfect solution for addressing misaligned teeth without disrupting your everyday life.
Is there anything that I cannot eat while using Invisalign?
While there are numerous restrictions associated with wearing traditional braces, the ability to remove the aligners used with the Invisalign teeth-straightening system eliminates the need for food restrictions.
How long does Invisalign take?
Initially, your Invisalign doctor will give you an estimate about how long your treatment will take. Your full treatment time is based on several factors, including the complexity of the issues being addressed and how well you comply with your customized treatment plan. That said, most patients complete their treatment within 12 to 18 months' time.
How does Invisalign Teen work?
The Invisalign Teen teeth-straightening system consists of custom-made, clear plastic aligners that are designed to slip over the teeth. These thin, flexible aligners are BPA-free and customized using the award-winning Trios intraoral scanner. This scanner is designed to take digital impressions of the teeth. Using this innovative technology, along with the X-rays and photos were taken during your initial consultation, we can create a 3D model of your mouth. On this 3D model, your Invisalign doctor moves each of your teeth into its correct location. This 3D model is then used to create your custom-designed aligners.
What happens if I lose an aligner?
In the event that you lose an aligner, just contact our office so we can get a replacement aligner created for you right away; however, if you are close to the time for switching out aligners, your Invisalign doctor may decide to have you move on to your next set.
Are there any food restrictions?
Unlike traditional braces, which are permanently placed until the end of treatment, Invisalign aligners are removable. Since they can be removed, there are no food restrictions associated with this treatment. However, it is important that the aligners are rinsed after they are removed from the mouth as well as before placing them back in. Also, after you eat, you should brush your teeth before you put your aligners back in your mouth. Following these recommendations will help keep your aligners clear and your teeth healthy.
Hot water should never be used to clean or rinse your aligners. Using hot water could cause your aligners to warp. Once warped, new aligners will need to be ordered because this damage is permanent.
How much is Invisalign for teens?
The cost of an Invisalign teeth-straightening system for teens is similar to the cost of traditional braces. Many dental insurance companies are covering Invisalign Teen. Typically, the coverage for Invisalign Teen is identical to the coverage a dental insurance plan provides for braces.
Benefits of Invisalign Teen:
Removable, so the aligners can be taken out for special occasions (e.g., Prom, graduation, etc.).
Requires no food restrictions.
The patented SmartTrack® material offers patients predictable results and makes Invisalign Teen aligners comfortable to wear.
This teeth-straightening method does not interrupt your life.
The clear aligners are easy to care for, discreet, and fit snugly.
There are no brackets or wires to worry about.
If you would like to discuss the ins and outs of treatment with Invisalign Teen, please contact Geneseo Orthodontics today to schedule an appointment with one of our Invisalign doctors at our state-of-the-art office. At Geneseo Orthodontics, we offer our patients the most innovative treatments and streamlined care in a comfortable, friendly environment.