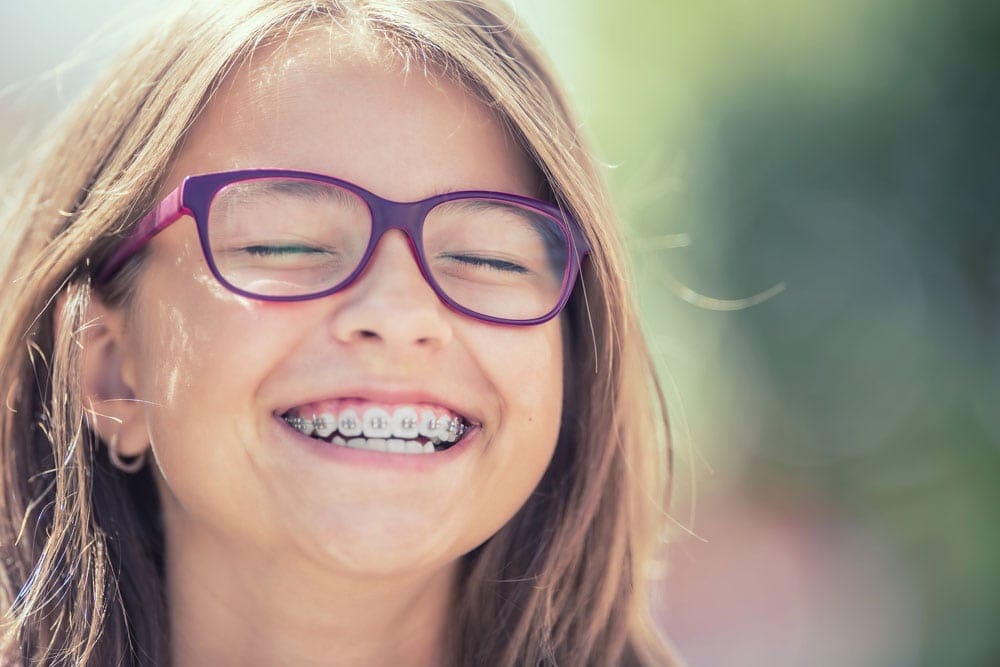 Braces for kids are a rite of passage for many people — and for a good reason. It is often during childhood when it becomes clear that a child can benefit from the teeth straightening process. You probably have plenty of questions about braces, and we're here to help you understand them more thoroughly.
When Should My Child Get Braces?
There is no particular age when a child should first see an orthodontist. Because there is no such thing as an "average" child, there is no "average" age that determines when your child should get braces. In some cases, a child might be as young as six. In others, a kid might be a teenager before visiting an orthodontist for the first time. Prevention really is the key when it comes to orthodontics. Ideally, a child should have their first orthodontic appointment around the age of seven. This is when the permanent teeth start coming in.
When your child is young, working closely with an orthodontist ensures that any potential problems, such as overcrowding or an uneven bite, are noted and followed. Just because you take your child to an orthodontist when they are young, it doesn't mean that treatment will start immediately. Instead, it provides the orthodontist with the opportunity to find and diagnose any issues before determining the best course of treatment.
How Do I Know If My Child Needs to See an Orthodontist?
If your child has been getting regular dental care from a pediatric dentist, this professional is often the first one to notice that your child could benefit from having braces. Some of the most common reasons that kids need braces include having teeth that are too crowded, those that are crooked, and those that overlap one another.
Another reason why braces are often recommended for kids is because of malocclusion. This simply means that there is a difference in the size of the upper and lower jaw. If your child has an overbite, their upper jaw is bigger than the lower one. Having an underbite means the opposite — the lower jaw is larger than their upper jaw.
What to expect when getting braces for kids
Getting braces for kids is a process that starts with an initial visit. During this first visit, the orthodontist will thoroughly examine your child's mouth, teeth, and jaw.
Your child's bite will be observed, and x-rays will be taken. These detailed x-rays will help the orthodontist determine if there are more permanent teeth that need to come in and how the teeth are positioned.
The orthodontist might also make an impression or mold of your child's mouth. During this process, a special gooey material is placed in a tray before being gently pressed into the top and bottom teeth.
The Cost of Braces
The actual cost of braces for kids depends on many factors, with the average ranging from $3,000 to $7,000. One of the most important factors is the type of braces that your child needs. After a thorough examination, the orthodontist will make a recommendation regarding the best course of treatment for your child.
Dental insurance can often help offset some of the cost of braces for kids — especially for the dental appointments your child will need. Paying for treatment in advance can also net you a sizable discount.
If you have a flexible savings account (FSA) or a health savings account (HSA), your child's braces might be a qualifying cost. Many orthodontics offices also offer payment plans so you can make affordable monthly payments against the total cost of your child's braces.
Why Choose Geneseo Orthodontics & Pediatric Dentistry?
At Geneseo Orthodontics & Pediatric Dentistry, we are the city's only dental practice that combines the two specialties of orthodontics and pediatric dentistry. Our dentists, Dr. Mike and Dr. Adam work closely together to ensure that each of our patients has access to the comprehensive dental care they need. Because your child is already familiar with our office, the transition from pediatric dentistry to orthodontics will be a smooth one.
Both parents and kids can relax, knowing that our dentists are passionate about serving our patients in a warm and welcoming environment with the latest state-of-the-art equipment. Best of all, parents can get all their own orthodontic care right alongside their child at Geneseo Orthodontics & Pediatric Dentistry.